High Performance & High Impact Windows
Enjoy Beauty Without Compromising Your Family's Safety
High-Performance and Impact Windows from Southern Window & Gutter Company let you enjoy the beauty and casual luxury of the coastal regions without compromising your safety.
Engineered to Withstand Hurricane-Force Winds
Precision-engineered to withstand hurricane-force winds, our windows are rigorously tested and approved to meet or exceed the stringent building codes required.
Thoroughly tested for air and water resistance, as well as structural integrity, our windows will deliver unmatched strength and protection against many of the most destructive weather conditions.
A series of test impacts against the window from a "large missile" – a 9 pound wooden 2 x 4, calibrated at 50 feet per second upon release, directed against the glass. After the window passes this test, it is then subjected to positive and negative pressure for 9,000 rapid cycles up to 100% of the design pressure.
Keeps Sounds Out and Sounds In
Our impact windows also offer another very pleasing element – the laminated glass helps to absorb sound, instead of transmitting it. This feature allows for not only peace of mind, but also peace from the daily disruption of the outside world.
Engineered to Last a Lifetime
We back all High-Performance and Impact Windows with highly comprehensive coverage. It's your assurance, through a Lifetime Limited Warranty*.
Ask Us About 0% Financing†
During Your FREE In-Home Consultation!
Features and Benefits
Vinyl extrusions built to withstand the extreme heat and humidity common to coastal regions
Galvanized steel reinforcement for added strength to the exterior of the meeting rail
Features a 3mm layer of annealed glass, a warm-edge spacer system and two more layers of 3mm annealed glass fortified by a layer of 0.090″ laminate
Fin seal weatherstripping and bulb seal helps to prevent infiltration at the interlock
"Dead bolt" locking system at the sill helps sash to absorb impact without bending or collapsing
Special LIMITED Time Offer: TRIPLE Savings Sale!!!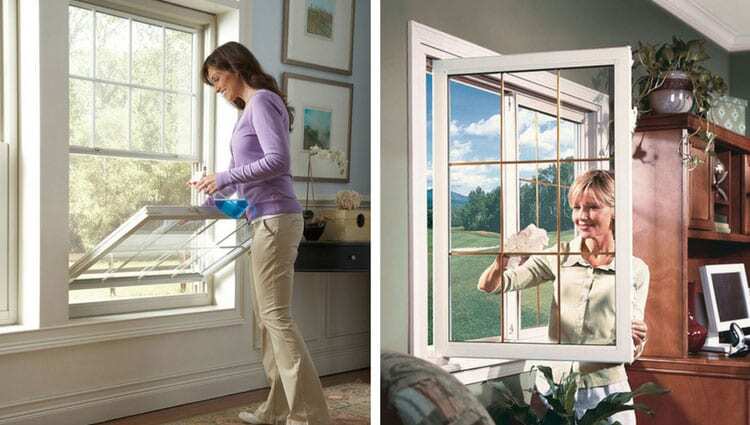 3 WAYS TO SAVE:
1)  60% off labor!
2)  0%†interest for 6 months!
3)  Take an additional $200 off your purchase!
Also get a $25 Walmart gift card
with your estimate.
*New orders only. Minimum purchase required. Does not include material costs. Other restrictions may apply.
100% financing available. Based on approved credit. Some restrictions apply.
Whatever Your Vision… We Have the Window Type & Style You Need
Choose an option below.
(Y)our Inspiration Gallery