Baths and Showers from Southern Window & Gutter Company in Chattanooga!
Update Your Bathroom in Just One Day!
You can transform the look of your bathroom but don't want to spend thousands of dollars and have it take weeks of construction and mess with one call to Southern Window & Gutter Company. We proudly serve Chattanooga and the surrounding areas by providing high quality, affordable home improvement services and products, including bathroom remodeling.
We can take care of you no matter what you're looking for, if you need to remodel a small bathroom on a small budget, create a safer bathroom environment for someone elderly or disabled, or design a unique master bathroom suite that you can be proud of we've got the perfect bath or shower solution for you.
Our job here at Southern Window & Gutter Company of Chattanooga is to make your bathroom remodeling experience easy, affordable and stress free. We simply replace your existing shower or bath with an updated one made of high quality materials.
Made with durable materials, our baths and showers won't chip, crack or peel. Plus, they're easy to clean and naturally resist mold and mildew. So you can throw out those harsh chemical cleaners.
Ask Us About 0% Financing†
During Your FREE In-Home Consultation!
Southern Window & Gutter Company of Chattanooga Offers: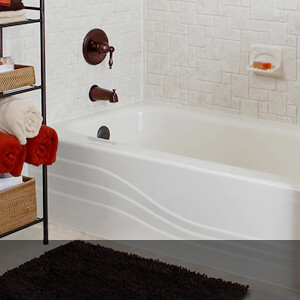 Bath Systems
Shower Systems
Accessible Baths
Bathroom Remodeling Experts in Chattanooga, Tennessee and the Surrounding Areas
We've been serving homeowners in Chattanooga and other communities in Tennessee for years. Our goal is to provide a long-lasting relationship with our customers by installing high quality home improvement products. What we offer here at Southern Window & Gutter Company of Chattanooga are complete bathroom remodeling solutions that are affordable and maintenance free. So your bathroom remodel is easy!
If you live in or around the Chattanooga area and are looking for a trustworthy home improvement company to remodel your bathroom, call Southern Window & Gutter Company of Chattanooga today or contact us here for a free estimate. We'd love to show you your bath and shower options and how you can benefit from a bathroom remodel from us.
"We recommend Ultimate Gutter Guard without reservation. Our days of worry about painting, gutter cleaning and ladders are over." Peter & Jane, Taylors, SC – December 6, 2010